Badger Extra ABC – Fire Extinguishers
Badger Carbon Dioxide – Fire Extinguishers
Badger Class K Wet Chemical – Fire Extinguishers
Badger Class D – Fire Extinguishers
Badger Halotron-1 – Fire Extinguishers
The Badger extinguisher line-up is a fully featured professional line of fire extinguishers that are extremely versatile and are ideal for tackling the majority of fire risks typically found in commercial, industrial and domestic applications. All models featured tough stainless steel cylinders, and chrome plated brass valves and meet or exceed national code requirements.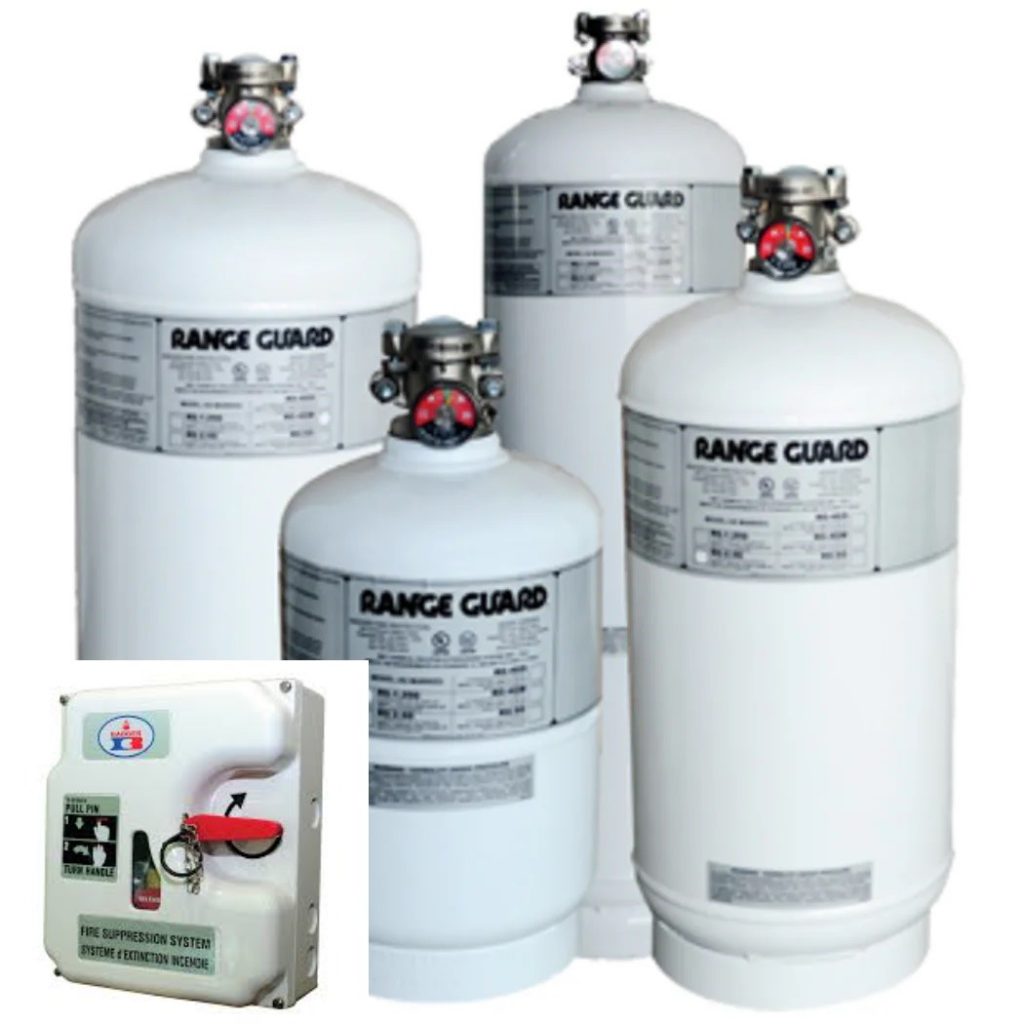 Badger's wet chemical fire suppression systems for commercial cooking applications are continually guarding against property damage, business interruption, potential injury, high installation and high maintenance costs.
Fast, Reliable Fire Suppression could mean everything to the success of your business! Rely on Range Guard® systems.
Rapid Fire Detection using state-of-the-art heat detectors.
Removal of Heat Source as Range Guard® system automatically turns off appliances.
Immediate Fire Suppression as wet chemical agent is sprayed on hazard area with special nozzles designed to give optimal coverage; wet agent provides superior saponification, which quickly snuffs flames and prevents reflash. Saponification is a chemical process by which fatty acids contained in cooking media are converted to soap or foam.
Quick, Easy Clean Up once appliances have cooled, the agent can be easily wiped away from the equipment.
The Kidde Fire Systems IND Dry Chemical System provides 24-hour fire protection for a wide variety of industrial processes, equipment, machinery and paint spray booth applications.
The IND Dry Chemical system offers the choice of two dry chemical agents effective on Class A, B and C fires. It is available in two basic configurations: as a local application system or a total flood system. A local application system is designed to protect a specific piece of equipment, while a total flood system is recommended for protection of enclosed rooms or spaces. In addition to the configurations, the  IND System also offers options for detection and control to create a system that will be ideal for your application.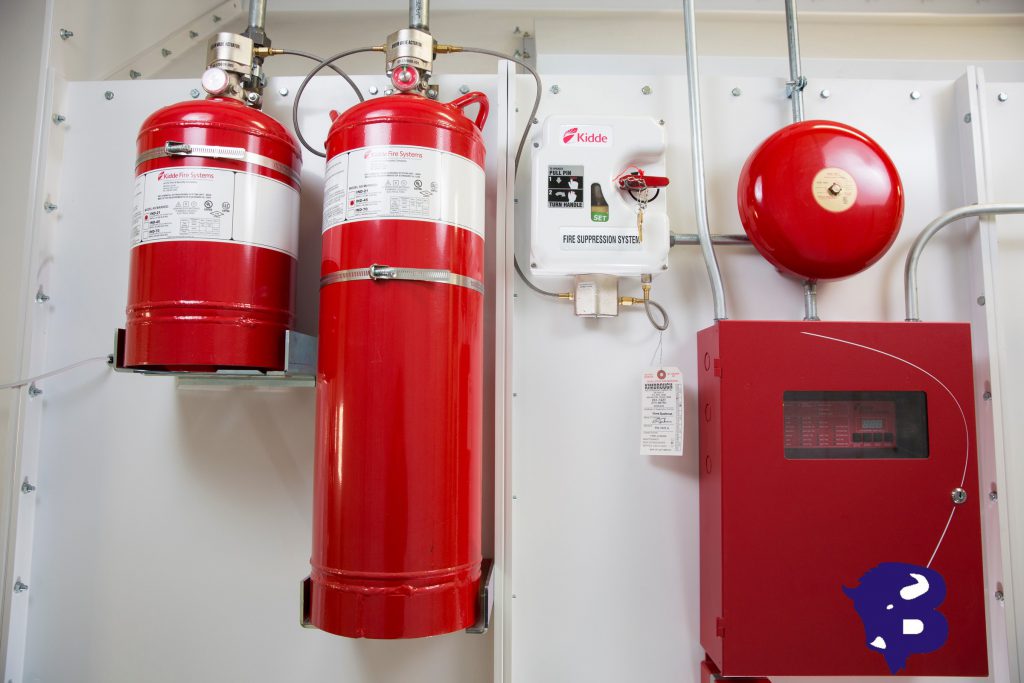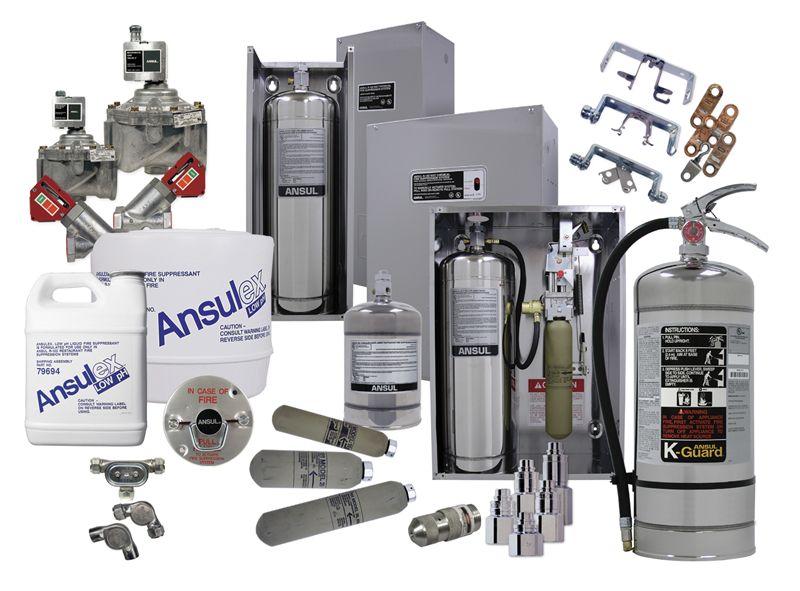 The Ansul R-102 Restaurant Fire Suppression System
ANSUL products protect more food service kitchens from fire than any other brand. The R-102 Fire Suppression System incorporates a flexible design with an extremely effective ANSULEX Low pH Liquid Agent. ANSULEX quickly knocks down flames and cools hot surfaces, while generating a tough vapor securing blanket that helps prevent re-flash.
The R-102 system is designed to protect areas associated with ventilating equipment, including hoods, ducts, plenums, and filters. It also protects auxiliary grease extraction equipment and cooking equipment such as various types of fryers, griddles, range tops, broilers, char-broilers and woks. The system is ideally suited for commercial kitchens in fast food chains, retail food courts, diners, convenience stores, catering facilities, mobile food trucks, hotels and casinos, stadiums, schools, hospitals and more.
Restaurant Electric Detection (RED) Technology
ANSUL Restaurant Electric Detection (RED) Technology is an electric, fully supervised and monitored technology designed to work with ANSUL R-102 and PIRANHA Fire Suppression Systems.
ANSUL® RED Technology provides confidence and safety by simplifying the protection of high-volume, commercial cooking environments. Its thoughtfully designed functions keep kitchens running efficiently while providing 24/7 protection.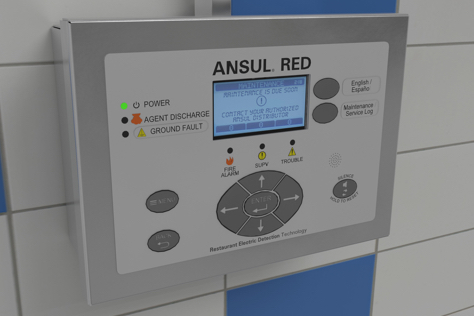 LVS Liquid Agent Fire Suppression System
The LVS Liquid Agent Fire Suppression System utilized in a stand-alone system protects off-road equipment such as above-ground and sub-surface mining equipment, including haul trucks, wheeled loaders, dozers, scoop trams, and shuttle cars.
The system is also well suited for other off-road vehicles such as landfill equipment; forestry vehicles; construction equipment; and specialty vehicles such as slag pot carriers, iron/steel slab carriers and tunnel boring equipment. Additional applications include on-road vehicles such as public transportation, waste management, over-the-road trucking, and cargo transport.
The Ansul CHECKFIRE 210 Detection and Actuation System
The ANSUL CHECKFIRE 210 Supervised Electronic Detection and Actuation System is engineered to stand up to extreme operating environments. This versatile system is designed to provide detection, alarm and fire suppression system actuation for mobile applications like hydraulic excavators, haul trucks, wheeled loaders, dozers and graders. The CHECKFIRE 210 is used with an ANSUL LVS, A-101, or twin agent vehicle fire suppression system for 24-hour protection of equipment.
One of the hallmarks of the CHECKFIRE 210 system is its flexibility in protecting multiple hazard areas. Featuring color-coded, plug-and-play connectors, the system is equipped with two, independent detection circuits configurable for various options including single-zone detection, two-zone detection, cross-zone detection, discharge pressure feedback monitoring or alarm only.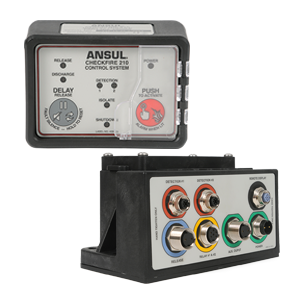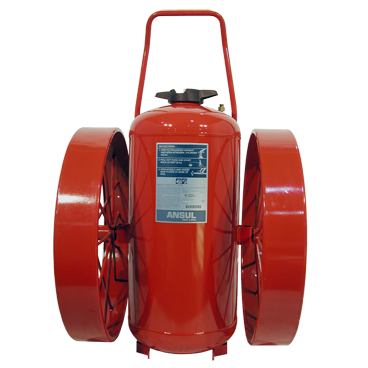 Ansul RED LINE Wheeled Units Dry Chemical
RED LINE Wheeled dry chemical fire extinguishers are made specifically to protect people and property in areas where the potential for large-scale fires is always present. Airports, loading docks, steel and iron mills, paint spray booths, dip and quench tanks, offshore platforms, loading racks, fuel storage, and heavy manufacturing areas benefit from the protection offered by these industrial high-hazard fire extinguishers
These heavy-duty wheeled units have greater extinguishing agent capacities than hand portable fire extinguishers, yet are highly mobile and can be fully operated by one person. Large diameter steel wheels quickly and more easily move the unit to the source of the fire, while the quick-opening valve option allows for fast, one-step actuation.
RED LINE Cartridge-Operated Hand Portables—Dry Chemical
RED LINE cartridge-operated fire extinguishers are the premium firefighting units preferred by safety directors worldwide in high fire-risk industries such as chemical, petro-chemical, oil and gas, mining, aviation, and power generation. Cartridge-operated means increased reliability, on-the-spot recharge, ease of service, and superior firefighting performance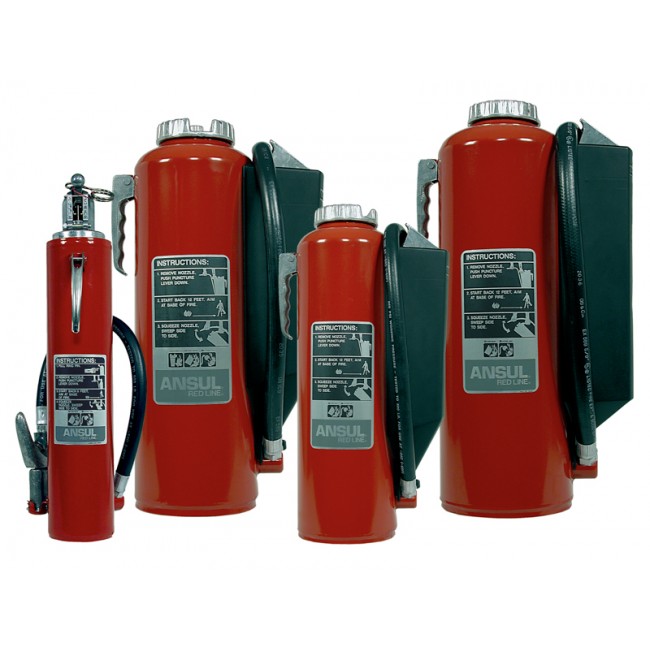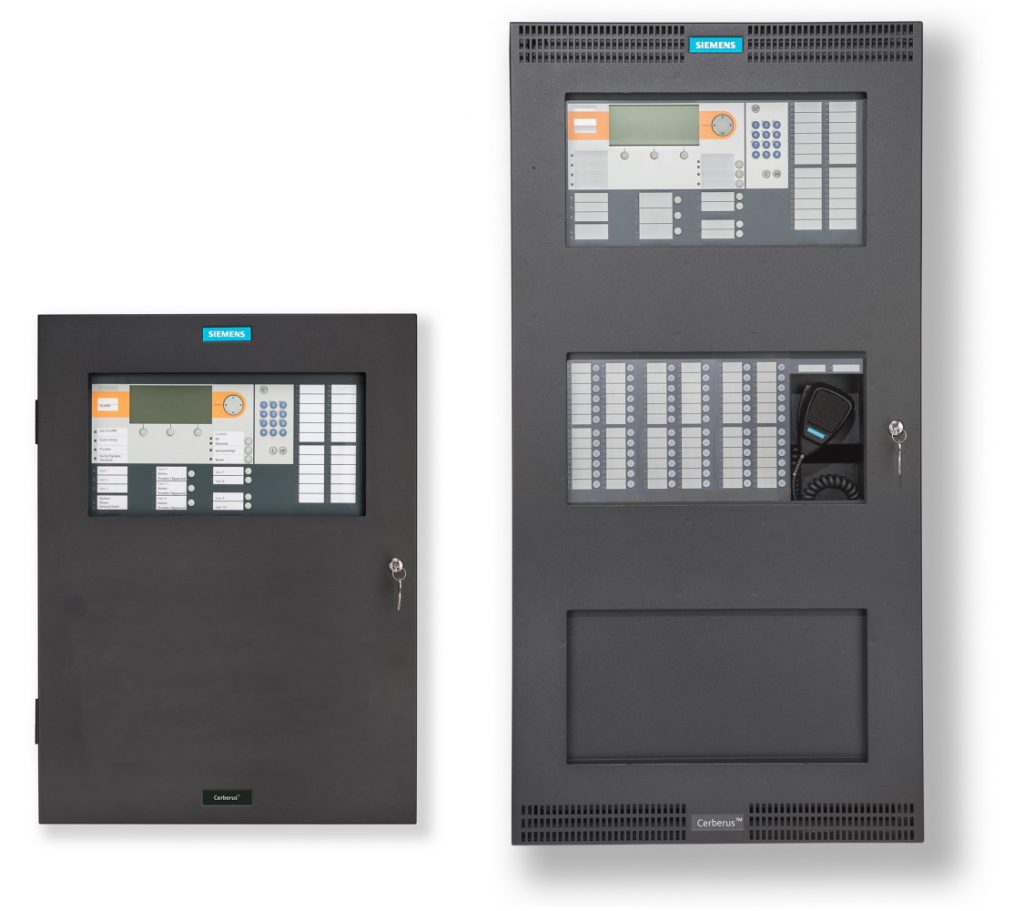 Siemens Cerberus PRO – fire alarm system
From safeguarding employees and the business, fully utilizing the building, maximizing operational efficiency, ensuring system integrity, to fulfilling legal requirements to comply with standards and regulations, a wide range of needs must be fulfilled. Protection gives you certainty. Protecting you from fire and much more. Because when you feel protected you can concentrate on your task, be creative, be productive and successful. Knowing that lives, assets, and business continuity are taken care of should a fire incident occur.
Building Owners, Electrical Engineers, and Electrical Contractors all benefit from Siemens' new addressable isolation technology.
With Siemens built-in ISOtechnology™, you save cost in design, installation, energy, and all future maintenance. Siemens Built-in ISOtechnology™ provides virtual circuit survivability, and a short in one zone doesn't affect another zone or impede normal system operation.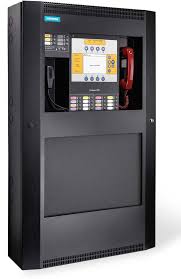 Siemens Cerberus PRO – fire alarm system
Everyone fears the day a fire will take over a building, potentially harming the people who work inside, the assets you keep, the business you run. But when signs of a fire can be detected as early as possible, you increase your odds of keeping everyone and everything safe. With the Cerberus PRO Modular intelligent fire detection system, you're ready to effectively respond to any fire in less time that it takes to draw a single breath.
Cerberus PRO Modular is Siemens large market solution featuring the power of FireFinder XLS with new innovations to meet the latest codes and standards. The modular system adds many innovative capabilities and features available for the Cerberus PRO fire portfolio, such as Class X I/O modules with built-in isolation and an addressable notification appliance booster
The Cerberus PRO Modular system is fully backward compatible with the latest versions of XLS and the modular network will communicate with existing networks. If they have not yet migrated their MXL to an XLS, MXL will migrate to Cerberus PRO Modular.
Sinorix 1230 is the latest generation of our chemical extinguishing systems, offering a range of unique features and benefits. It is an excellent solution for the protection of high-value assets, business processes and people. It is based on the sustainable extinguishing agent 3M™ Novec™ 1230 Fire Protection Fluid. The high-pressure technology allows highest design flexibility. Enabling rapid, safe and automated interventions, Sinorix 1230 can prevent loss of data and secure business continuity.
Novec™ 1230 Fire Protection Fluid is non-corrosive and non-conductive, which means it does not damage high-value assets such as delicate electronics. It is also harmless to people's health and to the environment. The Novec 1230 fluid has zero ozone depletion potential, a short atmospheric lifetime of 3 – 5 days and a global warming potential of 1, making it exempt from restrictions of so-called "greenhouse gases" imposed by the Kyoto Protocol. This makes Novec 1230 fluid an innovative, clean, and future-proof solution.